ESSENTIALS TO GOOD HIKING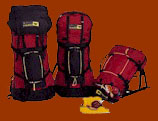 For an ideal family experience, hiking the High Country's trails can't be beat. Inexpensive, enjoyable, educational and physically rewarding, it also encourages you to appreciate and respect the environment. PREPARATION
WHAT TO WEAR AND BRING WHEN HIKING
First and foremost, bring properly fitted and broken-in footwear to hike in. Sneakers, especially high-top types, work well for children on short, paved trails free of rocks and tree roots. Otherwise, when wearing hiking boots, be sure to wear heavy socks. Boots should be snug enough to prevent rubbing, but not so tight as to pinch the toes.
Sunglasses

A fire-starter candle or chemical fuel

Matches in a waterproof container

Pocket knife

A complete first-aid kit with any special medicines for your child

A flashlight or headlamp with fresh batteries

A map and compass

A whistle to be used in emergencies only

Extra food

Extra clothing: a knit hat, extra footwear, a change of underwear and socks

Extra toilet paper, plastic bags to carry out any messes, and perhaps a shovel or trowel for personal sanitation use
SAFETY ON THE TRAILS
Hypothermia, the lowering of internal body temperatures, is an even greater threat to small children than to adults. Staying dry is the best way to prevent hypothermia, since wet clothing loses about 90 percent of its insulating value. Prevent getting wet when it starts to rain, but if unavoidable, remove the wet clothes and replace them with warm, dry ones.

If kids become separated from your group, they should stay where they are and wait to be found in an open area. Carrying a whistle is a good idea as their whistles can be blown three times as a distress signal.
OUTDOOR CLOTHING
The following items are considered essential for a successful outing:
Boots: Of heavy lug construction, they should fit comfortably snug with free play for toes and with little or no slippage on the heel. The boots should be weather proofed and broken in before hiking.

Socks: Four pairs recommended; two of lightweight nylon and two of heavy wool. Wear one pair of wool socks over one lightweight pair. The other two pairs go into your pack in case you need dry socks.

Pants: Constructed to be loose, warm, comfortable, and quick drying. For added warmth, wear polypropylene underwear.

Shirts: Light, man-made fiber - such as bunting or nylon pile - recommended for good insulating quality and quick drying.

Jacket: Mountain style with a hood, wind proofed, waterproofed, and sized large enough to cover more insulating clothes worn under it.

Head Covering: Styled to retain body heat or provide shade as changing weather dictates.

Gloves and Overshell Mittens

Rain Gear: A lightweight poncho, or rain pants and hooded parka.
Footsloggers carries all of these items and MORE! Click here to visit their website.